---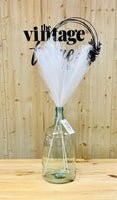 Product Description
Made of recycled glass, this vase is sure to make a statement in your home! Fill with your favorite large floral picks, pair with some beaded garland, and sit on a shelf or mantle. You will fall in love with the look and feel of this find!
Measurement: 15.5" T x 6.75" D
Care: wipe clean with a damp cloth
**Please note that these items are NOT shippable due to weight/size of item.